To be successful, one must have the right leadership skills to encourage the entire team to become great leaders in the future. Mr. Mandeep Singh, the founder, and CEO of SEO Discovery is the epitome of leadership. His sheer enthusiasm and zeal to become the leading digital marketer have made him launch his company SEO Discovery 12 years back.
The company is the forerunner of digital marketing. Mr. Mandeep Singh, who rightfully owns the tag "The SEO King", has made it possible for SEO Discovery to become one of the best digital marketing agencies, not just in India but all across the globe. Keep reading to find out more about Mr. Mandeep Singh and learn about his inspirational journey.
How He Became the SEO King?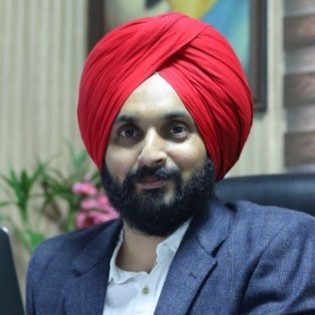 Mr. Mandeep is a renowned name in the realm of digital marketing and has more than 15 years of experience. Everyone looks up for someone who will inspire, show the right direction, and draw inspiration. And for many, that person is Mr. Singh. Digital marketing is quite dynamic, and only a true leader faces these challenges courteously and possesses the right skills to become one.
Mr. Singh has the right expertise to help companies understand the importance of digital marketing and be prepared to beat the competition. His story began 15 years back when he stepped his foot into the digital marketing world. Today, he is counted among the top digital marketing leaders.
Mr. Singh never fails to motivate his team. His passion for helping companies has made him assist businesses from different niches. Not just this, he is a member of the esteemed Forbes Agency Council and Expert Panel.
In-Depth Digital Marketing Literacy
To make a brand stand out from the rest, one needs to grasp what it takes to excel in sales. This means one needs to know the entire concept of a sales funnel. While preparing for a digital marketing campaign, one will have to take charge of these funnels as the foundation of their promotional campaigns and marketing strategy. There are four essential parts of sales-funnel:

Outreach: Plan a strategy to attract new customers
Conversion: Figure out ways to convince customers to do business with you.
Closing: Close the sales funnel efficiently.
Retention: Engage customers by establishing a good brand report.

A digital marketer needs to understand a buyer's journey. It is only on the basis of in-depth digital marketing literacy; one will figure out robust ways to increase a company's ROI. Knowledge is as necessary as experience. Mr. Mandeep's knowledge allows him to communicate well with different clients who belong to different niches.
Effective Communication Skills
A leader must have clear and assertive communication skills. Communication is vital because that's what allows a leader to get things done. But at the same time, a leader must also know how not to be overbearing and overpowering to the point that it affects their employees' mental state and productivity. This is one thing that Mr. Mandeep Singh is always careful about. He, as a leader, understands the fundamentals of strategy; this includes creating procedures, processes and setting achievable goals. His priority is to keep his team motivated which helps clients of all kinds achieve their ROIs. A leader should never put all eggs in one basket. Mr. Mandeep Singh never fails to consider the technical elements of his team members.  
Flexibility and Adaptability
A company can face challenges, which can make the working scenario of the company complicated. However, it is upon the leader how he accepts those challenges, finds ways to tackle them strategically, and never let the changes impact the growth of a business. A true leader can adapt to new scenarios and is always flexible to adjust accordingly. Mr. Mandeep Singh faces challenges as they come and never feels dejected. Moreover, he never lets his team feel indifferent no matter how tough the situation is. In the initial days of the company formation, SEO Discovery faced many hurdles, but his determination has made SEO Discovery keep going and growing, and today this digital marketing agency has 400+ employees. 
If a company wants its digital marketing campaigns to succeed, the leader must be ready to take risks. Risks are part and parcel of digital marketing. Mr. Mandeep Singh says, "Risk is an important element of digital marketing. Some ways will work and some won't, but we as a team need to keep finding the best ways to help a company grow." A leader will have to take risks for themselves and the company. Take innovation as an example; without risks, there won't be innovation. And a company's growth depends a lot on the decisions taken by a leader.  
Impeccable Productive Strategies
If digital marketing is a vehicle, then a strategy is its steering wheel. To drive a successful organization, a leader must think about productive strategies to unite the team who will make impossible things possible. Therefore, it's upon the leader to make a coherent marketing strategy for the company and discuss the digital marketing plan that will favor the client. Mr. Mandeep Singh never fails to guide his team and share the blueprint of a productive strategy keeping in mind the future of his company.
What Does His Company SEO Discovery do?
SEO Discovery is a leading digital marketing company that had its inception 12 years ago. The company helps businesses of all kinds to grow, have better engagement with their customers, reach out to the target audience efficiently, and yield better results. The company is backed by a team of tech-savvy marketing specialists who always go out of the box to connect companies with their customers.
SEO Discovery is embarked on a mission to become a global leader in digital marketing. The company specializes in search engine optimization, paid marketing, social media marketing, content writing, web development, digital marketing, web analytics, reputation management, and more. SEO Discovery assists companies of all kinds, shapes, and sizes. The team's data-driven approach and go-getter attitude have made SEO Discovery the number one choice for clients worldwide.
Every project, small or big, deserves equal attention and requires a true industry expert. Mr. Mandeep and his remarkable digital marketing experience is here to give the much-needed boost to your business. Your business has to be seen by your target audience to start generating revenues, and there's no better way than digital marketing to make the unthinkable possible! Connect with SEO Discovery and skyrocket your brand and sales!