Increased an Indian advertising agency's organic traffic to 65%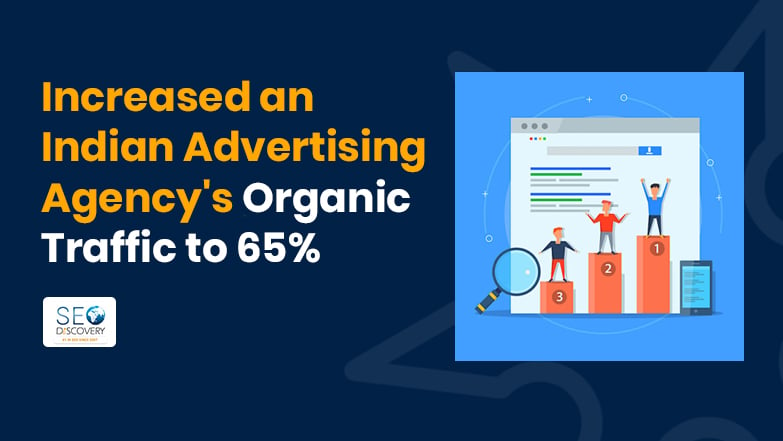 Excellent publicity is an advertising agency that came into the market in 2011 and gained an envious reputation.
Background of our client's business
They are known for providing advertising solutions to radio, media, digital, and television. In their own words, their advertising solutions are backed by strong and qualitative research. They got in touch with us to boost their online presence and authoritative backlinks.
Objectives
Helping businesses rank in Google to generate more leads and online presence is what we do. We did the same for Excellent publicity. They wanted to enhance their online presence to increase their brand awareness, generate organic leads and quality backlinks. Our team of digital marketing experts analysed and conducted website audit and crafted a perfect content marketing strategy to increase their conversion rate. In addition to it, we also helped them in keyword optimization.
Challenges that we faced
Having our deep roots in digital marketing, we still faced some challenges while offering our services to them. Below are the challenges that we faced while serving them.
1. Content Optimization

We identified and erected the issues that were hindering the organic exposure of the website content.

2. Missing CTAs

We identified the correct spots to place CTAs that helped our clients achieve their business goals.

3. Poor navigation

Fixing Poor navigation as it was rendering the existing content becoming useless for the website visitors.

4. Quality backlinks

We had to look from where to build the quality links for the client's website that can help them in improving site rankings.

5. On-page errors

Fixing on-page and other technical errors after conducting technical analysis of the website.

6. Competitive niche

Their business niche was a bit competitive, and ranking it was a bit difficult.

7. Optimising website speed

Their website was lacking in speed so we had to fix it for a better user experience. We had to fix issues that caused the slow speed of the website.

8. Keeping up with Google updates

We had to change the strategies as per the Google algorithms and updates.
Our strategy
Our strategy mainly consisted of helping our clients with fixing technical issues and fixing overall online marketing problems. It is essential to first smoothen out the on-site rough edges.
1. Complete Web Analysis

We started by doing a complete website analysis which included a website audit. Then we did keyword research based on our client's advertising business. We found the keywords that users can put while searching for advertising agencies online.

2. UI/UX recommendations

We provided the UX/UI recommendations that can strengthen the online presence of our client's business. We did it by optimizing the website speed and enhancing the user experience.

3. Resolved on-page errors

Our team conducted a technical audit of the website to fix the on-page errors like HTTPS errors, 401 (Unauthorized), 403( Forbidden), 404( not found), etc.

4. Website content Optimization

Our content writers started writing highly optimized content for their website and services. We laid focus on their services rather than promotion while writing the content. Apart from this, our strategy included analyzing competitors and their marketing and content writing strategies to keep our clients ahead of everyone.

5. Spying on Competitors

We used all the winning techniques like following their competitors to know which technologies they are using and at what point they are better. We evaluated the popularity of their competitors, checked their display ads, etc. This helped us to implement new things.

6. CTA implementation

We implemented different types of CTA like questions asking CTA, CTA for filling out forms, lead generation CTA, free trial CTA. etc.

7. Frequent link building

We build their quality links via Guest blogging, active social media posting, getting links from authoritative sites, etc.

8. Customised SEO strategy

We planned and implemented unique strategies as per our client's business and their expectations. Our custom SEO strategy was focused on the achievement of their business goals.

9. Finding gaps and opportunities

We found and edited wherever there were gaps, such as we edited their page's titles and meta descriptions with the target keywords. Below are the images that describe our work and how we managed to improve our client website organic traffic.
Results
We compared our client's business from the day we handled their marketing to earlier when we were not doing it, the graph is increasing continuously. We started managing their optimisation and marketing in Jan 2019, and you can see the increase in it till now.

Talking about the organic traffic on their website, it is 8000/month, and presently the traffic is touching the heights. There has been a 64.70% increase in website traffic by users. Nearly 65.72% of new users have visited their website resulting in a 58.74% increase in sessions.

They saw a significant increase in their total clicks, nearly 63% ( it increased from 20.4k to 32.2k ) and 43% in total impressions ( 1.36 M to 3.16 M). They saw an increase of 91% in the referring domains. Our strategies helped them in achieving their goals by 47.35%.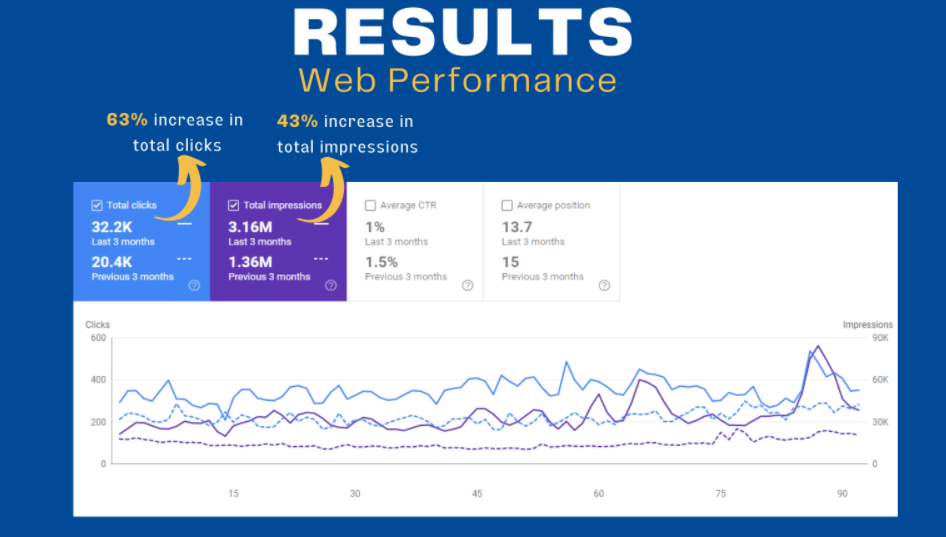 We enhanced their keyword performance as a result people are automatically finding their websites by searching the keyword. We proudly say that this happened within the client's budget and without paid advertisement.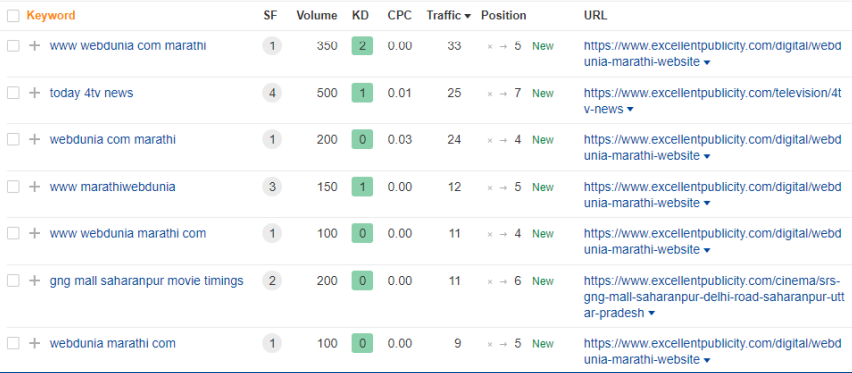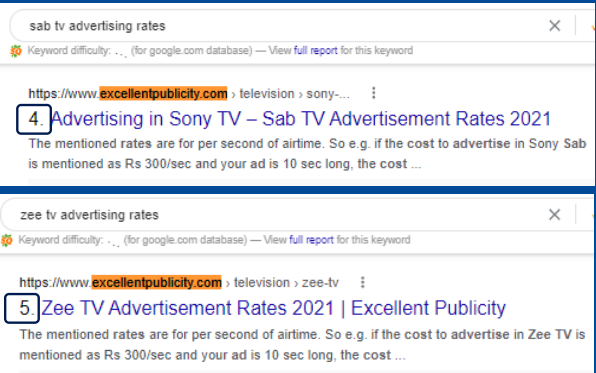 We put the effort into analysing the website, optimising the keywords, and fixing the technical issues. This client is still with SEO Discovery, and we still manage their overall work.