Search engines are the prime sources for online traffic, out of which google holds the championship belt. Google rankings are the pinnacle of success for online businesses. No matter what your field of business is, you must have an active website on Google to ensure your spot in the modern-day competition. 
However, it is not easy to improve your website rankings on google. You have to compete with the paid ads, featured snippets, and the panels found in position zero. A recent study by Zero Limit Web reveals that the first five organic results account for 67.60% of search engine traffic. Besides, if the page includes a featured snippet in 'position zero', the SEO CTR for position one drops by an average of 5.3%.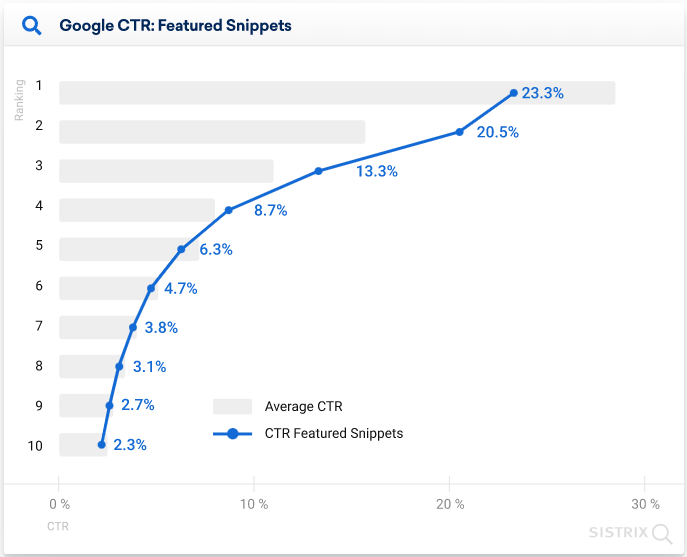 Source: www.sistrix.com
It shows the scale of competition for google SERP rankings. The average click-through rate for the first position on Google SERPs is 28.5%, which falls to 15.7 in the second position. The CTR in the second position is around half the CTR for the first position, and the percentage decreases steadily.
This article takes you through some essential tips to rank higher on Google.
1. Understanding the google algorithms
Google aims to provide its consumers with the best user experience and most relevant content. Google confirms that most algorithms are constantly altered and remain confined from the outer world.
There is an estimate that around 600 algorithms of google keep on changing every day. Besides this, some updates google announces regularly. The exact functionality of these algorithms is still unknown. The available information is mostly speculation from the experts of digital marketing.
About a decade ago, it was easy to rank on google. People used to stuff their content with keywords and drive tones of traffic to their website. But then google introduced a series of algorithms that include the Panda, the pigeon, and the hummingbird algorithms, and the websites experienced a sudden fall in their traffic. The goal of these algorithms was to improve the quality of content and provide its users with the best user experience.
2. Focus on the quality of content
The epitome of Google algorithms is that they want you to create quality content. Quality of content is the first thing to focus on to boost your rankings on google. 
Let us understand the google algorithms in detail to understand the importance of the quality of content. 
Google released the Panda algorithm in February 2011 to penalize duplicate and plagiarized content. In April 2012, it introduced the Penguin algorithm to penalize websites with unethical backlinks and the Hummingbird algorithm in August 2013 to penalize low-quality content and keyword cannibalization.
Have you noticed a pattern of what Google is trying to achieve with these algorithms? Yes, the quality of content. It is not only about saving your website from getting penalized. Quality of content is also essential from your business perspective. It helps you build trust and increase your brand awareness among consumers. As your content quality increases, your google rankings increase with it.
3. Evaluate the already uploaded content
Before creating new content, it is essential to evaluate the pre-published content.  
There are over 7.5 million blog posts published on the internet every day. If your content is not unique, it can easily be outranked by a competitor or get deindexed. It is essential to add new information to your content, To maintain your rankings on Google SERPs.
It is also essential to consistently track your rankings on Google SERPs. Several tools enable you to look into your website traffic and ranking insights.
These tools also enable you to evaluate the insights on your competition website. You can find out the keywords that your competitor is ranking for and frame better content around them to outrank your competitor in the long run.
4. Check and fix the penalties on Google.
Once you evaluate the pre-published content on your website, you most probably will notice that the rankings of some of the pages on your website have decreased drastically. The most common explanation for that is the page getting penalized by one of the Google algorithms. 
Check if any of your pages violate Google quality guidelines. It includes plagiarised content, unethical backlinks, or keyword cannibalization. Fixing the issues violating Google quality guidelines will help you reestablish and further increase your website position on google searches.
Another thing to remember here is to avoid any intentional implementation of unethical activities to increase rank on google. It might increase your website rankings temporarily, but as soon as Google discovers the deed, the websites are almost certain to lose traffic.
5. Determine a schedule and adhere to it.
One of the most commonly asked questions on the internet is the frequency of publishing content. It mainly depends upon the type of content you publish on your website. If you publish small articles of around 500 words, it is possible to upload them 2 to 3 times a day. Similarly, if your website publishes long-form content, it is convenient that you post at least once every week.
According to a survey published on Firstsiteguide.com, 22% of bloggers publish 2-3 blog posts every week.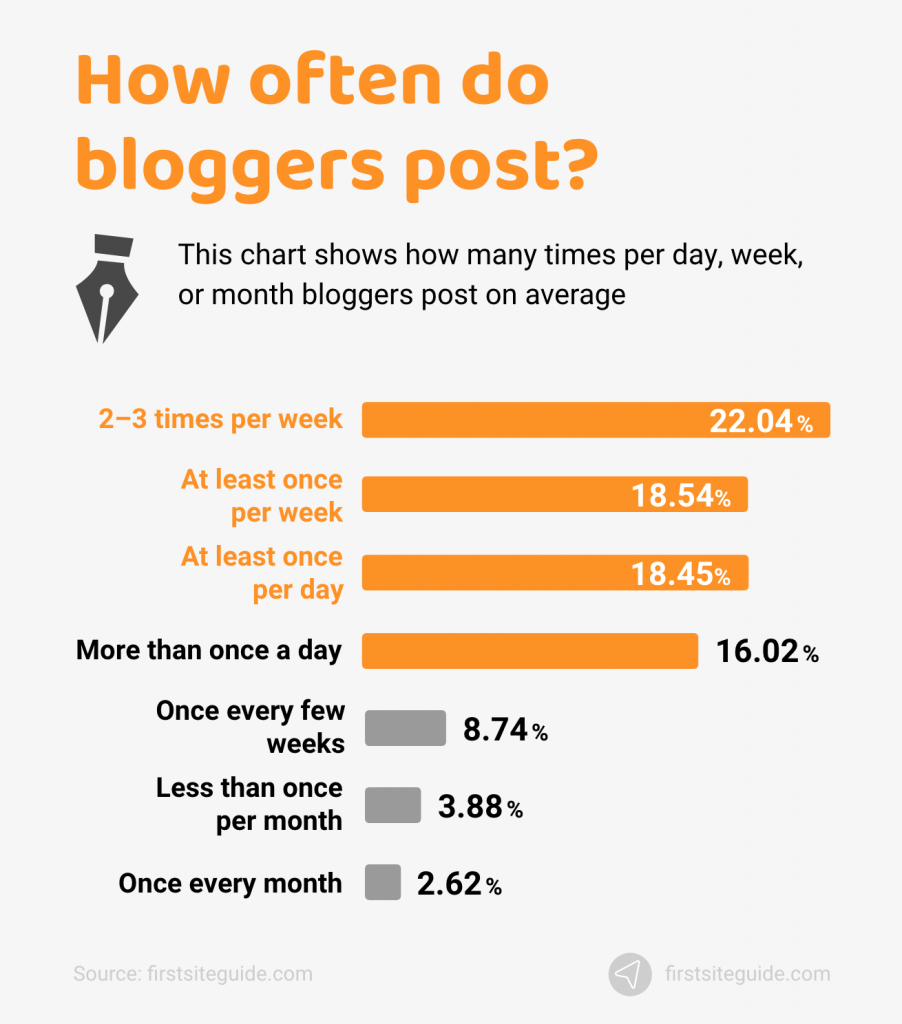 Source: www.firstsiteguide.com
This survey revealed that long-form content, more than 3000 words reported strong results. Additionally, 67% of the bloggers that post once per day reported excellent results. 
What do these findings imply? The clear takeaway is that websites that write longer and publish daily gain excellent results.
6. Mobile friendly development
According to Statista, there were approximately 6.4 billion smartphone users worldwide in 2021. The global population is around 7.9 billion, which means a smartphone percentage of over 80%
Source: www.oberalo.com
Smartphone users far outnumber desktop users on the internet. The mobile algorithm of Google focuses on prioritizing mobile-friendly websites for mobile phone searches. 
The mobile-friendly development in 2022 goes way beyond responsive website designing. There are several technologies used in 2022 to optimize a website to increase rankings for mobile phone searches:
Progressive web applications- The functionality of progressive web applications is to provide application-like ambiance to your website on mobile phones. It is highly effective as it does not consume mobile phone resources.
Accelerated mobile pages- The functionality of accelerated mobile pages is, as the name suggests, to increase the loading speed of a website on mobile phones. 
Single page application- Single page applications avoid loading unnecessary information into the mobile browser, facilitating increased browsing speed and improved user experience.
It is not wise to neglect your mobile phone visitors. Every business needs to optimize its website for mobile searches to excel in its marketing endeavors.
7. Focus on the on-page SEO of your website
On-page SEO is all about providing the best quality user experience. The on-page activities you perform to increase your website rankings on Google are known as on-page SEO. 
It is all about improving the user experience. In other words, all the activities that facilitate a better user experience come under on-page SEO.
If you have a lot of content on your website that doesn't rank, there might be an issue with the on-page SEO of your website. Only through a website audit can you determine the exact problem. You might find that you have over-optimized a particular keyword or some pages exploiting Google quality guidelines.
Another important aspect of on-page SEO is the design of your website. Your website should have a user-friendly interface and facilitate easy navigation for your visitors. However, the process of on-page SEO goes way beyond website designing and keyword optimization. 
8. Focus on the technical SEO of your website
You might have the best website with the best content, but if your technical SEO is not up to the mark, you won't rank higher on google. The goal of technical SEO on your website is to help search engine crawlers crawl your website. 
Two of the essential elements of technical SEO are your website's structure and the sitemap. Your site structure is the organization of all of the pages on your website. It should be flat and should have proper interlinking. A site map is a way to facilitate search engine crawlers to access your website structure.
Some of the other aspects of technical SEO are as follows:
URL structure
Data structure
Hreflang
Canonical tags
Website errors
9. Building backlinks in the right way
It is a well-known fact that Google values backlinks more than anything. It is a way for Google to assess the quality of your content. However, the number of backlinks does not matter as much as their relevance. 
Source: www.neilpatel.com
The websites that are linking to you should be contextually relevant to the content of your website. Higher the relevance higher is the recognition of the backlink.
In other words, rather than focusing on the number of backlinks, try to get backlinks from high authority and niche relevant websites. One quality backlink is better than a thousand non-relevant backlinks. There are tons of ways in which you can generate high authority backlinks, such as:
Profile creation websites

Q&A websites 

Guest posting 

Forum posting

It is all about increasing your website presence on the internet. The only thing to keep in mind here is the context of the backlinks. If you overlook the criteria of backlink relevance, you might end up degrading your website ranking instead of increasing them.
Conclusion:-
At times, people have been using unethical practices such as paid links and plagiarised content to rank higher on Google. But the truth is that they do not work anymore. No magic button instantly boosts your rankings on Google.
One must not try to deceive Google to improve their Google rankings. Adhere to Google quality guidelines and focus on providing the best user experience for your visitors. You will soon see a gradual increase in your website rankings.