Scaled the Digital Presence of a Business in the E-Commerce Industry.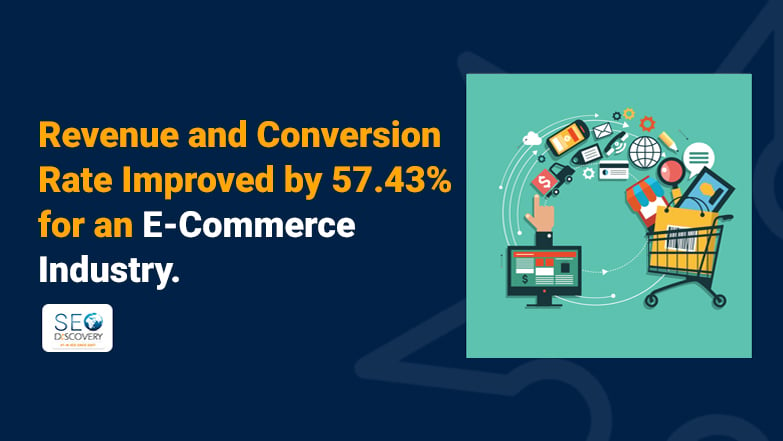 Usedmobile4u is an online e-store that sells second-hand mobile phones at reasonable rates.
Background of Client's Business
The client of Mobile4use sells second-hand mobile phones online. They have a website where they sell all the used mobile phones in better condition. They got in touch with us to boost their online presence in the E-commerce industry. It has never been easy to scale your business online. Especially e-commerce marketing and creating a brand's digital presence is a bit difficult. However, our experienced SEO team helped them and achieved the client's expectations.
Objective
Our objective was to make it easier for them to create an online presence in the e-commerce industry where there is a lot of competition everywhere. We had to use the right digital marketing techniques to overcome the barriers and our strategists worked on it and planned out the techniques via which our objective was achieved.
Challenges we faced
Having our deep roots in digital marketing, we still faced some challenges while offering our services to them. Below are the challenges that we faced while serving them.
1. Content Optimization

Their website had content duplicacy and removal of the duplicate content was the major task.

2. Missing CTAs

The website had some CTA's missing and it was challenging to write the call-to-actions.

3. Poor Navigation

Poor navigation gives a bad user experience and their website has poor navigation. It was challenging for the team to fix that.

4. Quality Backlinks

To rank higher in Google, getting authoritative backlinks is foremost. We researched the best authoritative sites and brought quality backlinks for them.

5. On-Page Errors

Their website has some technical on-page errors which if not resolved would have definitely affected the website. So, we fixed the on-page errors.

6. Competitive Niche

E-commerce is no doubt a competitive niche and creating a digital presence in such a competitive industry is a challenge in itself.

7. Optimizing Website Speed

Our client's website was lacking in speed and thus we had to optimise it.

8. Keeping up with Google Updates

Google algorithms change every day and there is always a new update. So keeping active with the new updates and applying the strategies according to that was a bit difficult. But we still succeeded in it.
Our Planning
We prepared our overall strategy as per the e-commerce industry's competition. Our target was crystal clear to help our client boost the online presence and thus we planned the strategies accordingly.
1. Finding the right second-hand mobile keywords.
2. Researching from where their website can get quality traffic.
3. Paid and organic traffic.
4. Improvisation of the existing keywords and linking them appropriately for better ranking in search engines.
5. Organic Lead generation.
6. Optimising their local Google my business.
7. Setting up Google Ads.
8. Status tracking
GMB Work Strategy
While setting up Google my business, we created location-based pages for their business. This helped them in gaining business from the local market. We crafted optimised content for Google my business posts.
Our Strategies: SEO Strategies
Website Analysis

The whole website analysis helped us to find out the loopholes that were keeping it back from growing and scaling.

Finding gaps

We planned to find the gaps and cover them so that there won't be any issue regarding it in the future. We started with meta descriptions and titles.

Categorized keyword research

Finding the right e-commerce keywords was difficult and this was in our plan to search the keywords of this particular category to use in their website and content.

Spying (learning) on Competitors

Our experts are aware of this that competitor analysis is the key to boosting the online presence. So we first analyzed our client's competitors and their actions, and thus it helped us find better ways to grow their online presence in the health industry.

UX/UI recommendation

We worked on the website UI/UX because it was not up to the mark and for gaining a strong online presence, we gave them the right UX/I recommendations that worked for them.
Google ads work strategy
Friendly page creation

The first strategy was creation of a friendly page and then we moved further.

Audience set up

Today marketing means creating a different audience, your own audience and we did the same. We planned how to make a different audience for our clients who want to buy affordable second hand phones.

Campaign creation

Campaign creation is not an easy nut to crack, it requires well research to understand the psychology and choose the right target audience. Our techies have experience in the same.

Regular ads optimisation

Our intelligent techies optimise the ads after doing their A/B testing.

Remarketing Setup

Remarketing setup is also necessary to let them know your existence. It promotes your brand to those who have just watched the advertisement of your products and left. It will create your brand's image in their mind.

Categorized keyword research for paid campaign

Researching the right in the e-commerce industry is the best way to attract customers. Our PPC team researched to find the appropriate keywords related to second-hand phone purchases.
Our Results
As per our client's feedback, it was in the very first month that his website got an immense amount of traffic. There was a boost in the revenue and sales from the first month. The same is still going on. Here is the feedback " In the first month of the work my website's traffic and ranking increased. There's been a boost in my sales. I would like to recommend their services".
Here is how he got an increase in sales and website traffic.
There was an increase in their organic traffic to 8.6K, and their SEO performance was increased, and they got to know where their target audience is more active. In addition, we helped them to understand from which top channels they are getting the majority of traffic.
From the web performance on SERP, you can better understand how their online business witnessed a sudden increase. The total clicks in the previous six months were nearly 4.07K, and after handling their online presence, they saw an increase which was not less than 10.8K. The total impressions increased from 633K to 1.11M in the last six months. Now, coming on the average CTR, it increased to 1% in the last six months.
The graph below is an example of the same. All the planned strategies helped in improving their website's performance.
Let's have a look at the result of the keyword optimisation strategy that we used for our client. They have been in the number one position in Google.