Keywords are the words or phrases that any person uses to conduct a search on the internet. They link a website, product listings, and other online products to a visitor. They can be connected to queries that a user has to ask. The process that includes finding these search terms is known as keyword research. Undeniably, it is the keystone of content creation and the process of search engine optimization. However, conducting keyword research for SEO is a continuous task. That is because of the updates in the marketing trends that can happen every month.
The steps involved in the process of keyword research in SEO can include:
Finding the terms and phrases a person can search about
Understanding the reasons behind the search queries
Evaluating the top-ranking content on the search engine result page
Adding relevant keywords into your content
Regularly Updating content with the relevant and trending keywords
A top-ranking website on SERP results have in-depth keyword analysis, inventive planning, unique and value-added content creation, regular monitoring, and coordination.
Importance of Keyword Research for SEO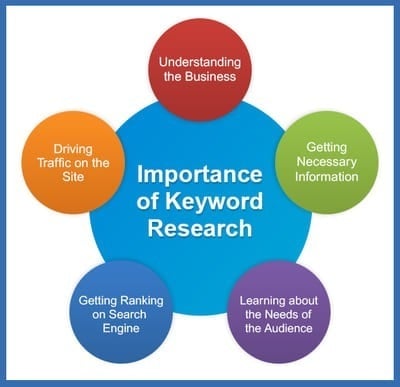 There are several reasons behind prioritizing keyword research for the digital campaign of any business. Here follows the list of most important ones:
Understanding the Business
Knowing the keywords can help to get a clear picture of the business and its brand. It can include the products/services being sold or offered. 
Getting Necessary Information
Performing keyword research can tell where a business stands in the digital world. It can also help you learn the keywords that can be easily ranked and the keywords on which the competitors are ranking.
Learning about the Needs of the Audience
As keywords are the search queries that the audience or potential customers use, keyword research can help a business understand what its audience is looking for.
Getting Ranking on Search Engine
For ranking a business, a search engine first needs to learn what a business is all about. Targeting keywords on pages of a website is necessary for this.
Driving Traffic on the Site
Keywords play an essential role in the process of search engine optimization. Identifying them to use in content that has to be optimized is where a website can get the traffic.
According to a March 2018 study by Advance Web Ranking, the first position on Google search results on desktop received a stunning 30% click-through rate (CTR). The lower your ranking, the less likely you are to get clicks.
So, it will not be wrong to call keyword research to be the beginning of a digital marketing campaign. However, it has to be a continuous process. It can also help in finding the website's ranking, as compared to those of the competitors. 
5 Tips for Better SEO Keyword Research
After learning about what keyword research is, the next and one of the essential things to know is the right way to approach it. The first step is to find the right keyword research tool for it. Google Keyword Planner, Ahrefs, and SEMrush are good tools to choose from. Irrespective of the tool for keyword finding you choose or niche you deal in, here is the list of 5 tips that can help you perform the better keyword search for SEO campaign.
1. Know the Purpose of the Research
Once in the middle of keyword research, it will not be hard to go off-topic and find keywords that you do not even need to know. That can be a big waste of time as instead of looking for the right keyword, you would settle for any term or phrase that appears to be relevant. Do not end your research like this and start with a purpose. The first thing to find out is the purpose of building the keyword profile. Is it to analyse the website's performance or to discover the content gaps in the market to avail from? or is it to start a new page?
Learning the objective behind researching keywords can get the directions to what exactly you need to find. It can also tell about when you have achieved the result of the research. It can also tell you when you are ready to go ahead with the strategy.
2. Learn about the Intent
Before targeting a keyword on the website, the first thing you look at is the number of people conducting their search through that term. However, that metric is of no use if it can't take you to the 1st page of the search engine. At the same time, it needs to provide the information that users were looking for while conducting their search. That is where you first need to learn what users want before conducting their search using that keyword.
However, the main thing to be given attention to is the actual ranking of the keyword before you choose to target the big keyword. You can also learn about the recent way of Google to define the ideal serving user according to the keyword. It also gives a glance at the competition a website will have to face. If the content you have planned is not resolving the query presented in the better or the same manner as other sites on the top pages, consider it a need to look for a different keyword.
Do You Know "60.67% of all searches are driven by 0.16% of the most popular keywords."
3. Research the competitors
If you are not aware of the right keywords, you should consider looking at the ones your competitor is ranking for. For this, you can go for tools like SEMrush, Conductor Searchlight, and Google Keyword Planner. If you are using Google Keyword Planner, start by selecting the 'Search with a Website' where you will have to enter the competitor's website. It will take you to the variety of keyword ideas related to your competitor.

Instead of just settling with the domain name, you can also search any landing page up. It is a simple and easy way to get the right keywords for attaining the objective of the content.
4. Use Google Search
If you are aware of the right platform to search, you will surely get many other information sources related to keywords, which users search. You can learn about them directly on the search engine result pages. Before you click on enter, take a glance at the Google Suggest and learn about the keyword variants appearing.
It can be an excellent and effortless method to learn about what people are looking for. Apart from the suggestions coming down the search bar, you can also look at people also ask sections. It can be a good way to know what people mostly look for.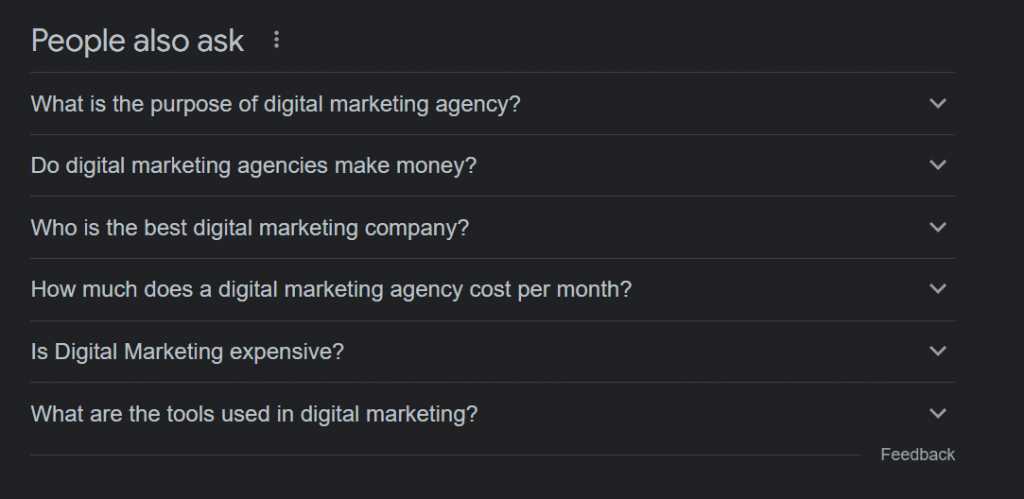 5. Target Variations of Keywords
After you have searched the keywords, do not consider it as the end of the task. Apart from using the exact keyword or query, you can still make use of the similar kinds of keywords. For this, you need to look for a variant of that keyword to use on the same page. Including and targeting synonymous keywords can increase the number of keywords. It can also act as a plus point in enhancing rankings for them. Even after discovering a top keyword with a high search volume, you may also find it in a long-tail type; it can be a good fit for your webpage. Looking for information from other sources can enable you to target even more keywords.

Along with the long-tail version, you can target another variation, which is questions and queries. For instance, if you run a digital marketing company, you would consider keywords such as 'top digital marketing company' and 'best digital marketing company' to be the relevant keywords. However, many users might also look for 'Which company is best for digital marketing?'.
Keywords have further classifications depending on it's intent, type, search volume and competitors. Here follows the list of it:
A long-tail keyword refers to a phrase made up of three to five words. This kind of keyword is more specific as compared to generic terms and can allow you to focus on nice demographics. These keywords are designed to depict the way the audience makes queries. They are also less competitive as compared to a generic keyword. Using long-tail keywords can pave the way for high-quality traffic, which in the end can ease conversions.


These keywords are more prominent in the customer journey. Usually, users start with a simple search. Now, as search engines act helpful to resolve their queries, the search turns more detailed. That is where long-tail keywords will get more important to help businesses take the edge of the competition.

Do You Know"Long-tail keyword searches have a 3 to 5% greater click-through rate than generic searches."
As the name specifies, search phrases comprising one or more words are called short-tail keywords. Due to its length, it is less specific as compared to queries or phrases with more words. For example, SEO Guide is a short tail keyword.  Short tail keywords have more searches as compared to individual long-tail ones. However, highly specific keywords form most of the search volume. 

These keywords set the pattern and direct the keyword research efforts. Generally, they are the seed keywords to start. For example, in a blog titled, making a delicious chocolate cake without an oven, the cake is the short tail keyword. They are more specific, have high search volumes, and have high competition but as per the stats "70.87% of keywords with over 10,000 monthly searches consist of only one or two words."
A medium tail keyword is a search query with two or three words. These kinds of keywords are more specific as compared to short-tail keywords; it makes them less competitive. However, the search volume is more here as compared to long-tail keywords, for example, chocolate cake. They have medium keyword difficulty with a higher search volume.  "Over 29% of keywords with over 10,000 monthly searches have three or more words."

For ranking them, the content needs to be of good quality. This type of keyword also needs inbound links to the content to grab the attention of the keywords. However, targeting a single medium tail keyword can focus only on that single content rather than multiple pieces. It makes that single content even more worthwhile. 
Types of Keywords as per Intent
For Google, every term or phrase can be different according to search volume, cost-per-click, and difficulty. However, when considering the broader aspect, they can be categorized into four main groups depending on the search intent of those keywords. Search intent refers to the topic you would possibly benefit from its guide. Here follows the list of those:
Informational Intent Keywords
When the readers look for a bit of simple advice on the web and you have to guide them, you will use the informational intent keywords. Possibilities are that they need general knowledge related to a topic, an answer to a particular question, or a step-by-step guide. These searches can begin with:
What is
Ways to
How to
how does
Benefits of
Guide to
Tips for
Consider a situation when a reader searches with phrases such as 'tips to a healthy workout,' he intends to know about tricks to perform a smart method of working out. After this, the next step for the service provider, which here is fitness care, would be:
Start with keyword research that revolves around the query. As per the research by Moz "Around 8% of search queries come in the form of a question."
Discover and understand the ranking content as per the phrase
Check if it matches all the requirements
Create value-added content that is a level higher than the content on top.
Usually, blog posts can be effective to satisfy a search intent of this kind. However, to create informational or value-added content, you do not always need to include price options or service offerings. It is because when any user scrolls the internet with an intent keyword, he aims to learn something and not look for flashy deals. Overly promotional content can impact the consumer trust for a business. 
For informational intent, content should be able to tell users that:
Why should they trust you
Why do they need to take your service/product
Why choosing you over others is advantageous
Also, do not forget to leave a way for them to connect with you. These keywords can be best suited in guides, blog posts, and how-to-do articles. 
Navigational Intent Keywords
Keywords with a navigational intent are quite more focused as compared to informational keywords. In these situations, a searcher knows where he has to go and also about something specific he is looking for. It can be for a service, brand, product, or even a website. For instance, Amazon, YouTube, Facebook, etc.
Searching keywords for targeting navigational queries does not bring big returns in the beginning, unless and until you own a web page or site that can be directly searched by the people already. The reason behind it is that navigational intent is clear as compared to informational intent, where the searchers want advice. 
Keyword research for navigational keywords also depends on the services you provide. Targeting them can be a good step for retailers selling services or products from a reputed brand. Suppose you offer a skincare service and want to promote your services of Botox treatment. In your keyword research, you should go for terms connected with botox, such as:
Botox treatment
Botox cost
Botox treatment time
Botox after treatment
Every business needs to focus on creating a strong digital presence around the brand name and its site. Using navigational keywords with a brand name to restate would not give instant results, yet its importance can not be left unnoticed.
Commercial Intent Keywords
When users are aware of their wants but are not sure about purchasing them, that's where commercial intent keywords come in. They want more information to find out the solution that suits them best. Here, you can play a part in guiding them. For this type of intent, use keywords and phrases like:
Best gynecologists
Top Italian restaurant
AC repair in Phoenix
Reviews of a specific brand.
According to the service/product you offer, terms and phrases that you will have to cover might have to be at a local level. For example, you own a CPA firm in New York, so you will have to target keywords like: 
CPA NYC
Accounting services New York
CPA in New York 
Experienced CPA in NYC
The aim here is to tell the searchers who you are, why you should be their top choice, and how to reach you. The point is that users want to make a purchase, and all they need is the extra push for that. These keywords are found mostly on service pages, web pages, and blogs. 
 Transactional Intent Keywords
When the user is already aware of what he wants and is willing to purchase, it is the transactional intent. The purpose of keyword research is to put the webpage or website in front of the audience. Keywords with this kind of intent can include phrases or words like:
Coupons for
Cheap
Affordable
Deals on
Buy
Where to buy
These keywords are used on service pages, product pages, or any page where the user's end goal is to purchase.
What Steps does SEO Discovery Follow?
The process of keyword research is like laying the foundation of search engine optimization and content creation. That is the reason why we prioritize it. Here are the steps that we follow! 

First of all, when we bring the clients on board, we collect every detail about their business, the industry they deal with. We focus on everything about them, including their strength, weakness, opportunities, goals, and so on. Every piece of information we collect is essential to ensure that every step we choose brings results.
See, to begin anything, you need a starting point. For us, it is the list of phrases that can tell about the products or services our clients would want to promote. It makes it essential to determine the current position of the website on a search engine. We use a ranking tool, however, you can follow manual steps for it also. It helps us get the possible opportunities that we will need to avail of in your processes. Next, we list down those keywords. Eventually, the keywords that rank are the ones that will drive traffic to your site as well.
Next, we use paid keyword tools to expand the money or seed word list to learn about search volumes and competition. We prefer using paid search methods because it is useful to determine the essential phrases for the purpose of targeting using organic search. 
Now, we have keywords, so our concern is to filter them and keep those that could help you rank. For this process of filtration, we check if the keywords support each other. We look for keywords that can tell about the money makers of the site. As we have already learned about the client and his website, keyword filtration gets easy because we already know what we need to consider.
This process is a part of keyword filtration only. It includes assembling all similar and supportive phrases to target on a single page. We do it for the purpose of link building, as well as on-page optimization with different phrases. However, the content has to be kept natural. For instance, we have to prepare content on link building. We will use phrases, including link bait, link acquisition, and building links. Now, with all the keywords we have, we can use them exchange ably. When you will start with it, select the super competitive keywords.
We make sure that we go for competitor's research because it tells about the competition we will have to face. For this, we do a routine google search with a phrase, then we consider the leading URLs, and that's how we reach out to competitors' sites. Now to analyze them swiftly and in-depth, we choose SEO tools such as Ahrefs, SEMrush, Google Keyword Planner. It helps us in:
Linked pages: It includes learning about the pages the competitors have received their links. It also tells about the authority pages. 
List of Metrics: After learning about the linking pages, we consider the List of Metrics. It helps us in learning about what we have to compete.
By now, we already have a list of narrowed and filtered keywords. However, for quality assurance, we consider checking the trends of the keywords to work on. We make use of Google trends to learn about the comparison over the years. We prefer using Google Trends at two points of our research, one at the time of selecting head keywords and the second during the quality assurance check of the clusters that we have finalized.
Whenever we go for keyword research, our end goal is link building. However, along with it, we also emphasize the target page. Deciding which URLs to target is essential in the entire process. SEO experts like us, often complete the research and draw up a line that the keywords we have selected might have enough content to connect to. In situations like these, we will have to focus on a new web page and URL.
Keyword Research is like laying the foundation of an effective Search Engine Optimization or Content Marketing strategy.  It helps in understanding the business, its audience and getting higher ranking and traffic on the website. To begin, first, know the purpose, then your intent and the competitors. Do not settle for what you get earlier, but also focus on finding the variations of the keywords. All in all, Keyword Research is an essential step, but performing it right holds more importance. Following it, focus on core until you are sure that what you have is the handful of high ranking keywords.
Still feel confused, checkout our keyword research tutorial video.