Over time digital marketing has become the preferred marketing channel of businesses. They have become aware of the enormous potential that it offers towards their growth. It has evolved to be an indispensable part of a business process.  Digital marketing trends are one of the most dynamic aspects of modern marketing. Not the world wakes before they change. It is essential to be up to date with them to ensure the chronic growth of your business. 
Dynamic necessity:-
Before digging into the emerging trends, we should understand their importance for your business prospects. Over time, the competition on search engines has increased drastically. Digital marketing now is not limited to the quality of content and SEO. Several other google factors affect the ranking of your website. These include website designing, content theme, and other marketing trends.
If you get too comfortable with your current rankings and stop evolving with the trends, you might soon see a dramatic fall in your website traffic and rankings.
Here we have elaborated on the 25 digital marketing trends for 2022
Shoppable posts or sales copies are textual content created to persuade users to buy products or services. They allow you to introduce your products and services to your consumers.
However, it takes effort to write an effective sales copy. You must understand the consumer's problems and tell exactly how your product or service can solve it.
Have you seen a change in keyword perception? Yes, the long-tailed keywords are making a prominence. It is due to the increasing use of voice search devices.
According to a study published by Juniper Research, "55% of households will adapt to voice assistants such as Alexa Echo and Google Home by the end of 2022". As a result, the websites that have optimized their content for voice searches will rank higher.
Illustrations, infographics, and videos are getting popular for their descriptive nature. They require less effort on the user's part to understand the information. 
Recently, search engines are promoting video results in the SERPs which means video content have higher engagement than textual content. In 2022, illustrative and video content will surely be in the trends. Businesses need to focus on various content types and make their content more diverse and engaging. 
4. Artificial intelligence and machine learning
Gradually artificial intelligence (AI) has crept into the life of modern people and taken a significant role in it. Artificial intelligence has enabled digital marketing experts to track user activities and present the most relevant solution. 
Machine learning analyzes the pattern of a specific user's activities and learns about the motives that drive him to take action. It is not a relatively new trend. However, marketers are supposed to use more advanced AI-based technologies to enhance their marketing strategy.
5. Interactive content and emotive brand promotion
No matter what your principal goal is? Your content has to be engaging and informative. Your visitors are not interested in sales funnels. They are on your website looking for the solution to a problem. Your primary goal should be to solve it. Once the user is satisfied with your content, try to engage him with various digital activities such as voting polls, online quizzes, virtual contests, and many more. It is one of the latest digital marketing trends.
Emotive Brand promotion is a combination of promotion and emotion. Your audience should get a chance to connect with your brand. Connect with your audience on social forums, social media groups, QNA websites to know what they are talking about your business. Take active participation in such conversations to make users feel connected.
6. E-commerce channel advertising
Since covid hit the world in 2019, the only option to shop amidst the pandemic is through E-commerce platforms such as Amazon. The E-commerce industry has benefited largely from this ongoing pandemic. More people than before are using e-commerce platforms to make their purchasing decisions. 
It is an opportunity for marketers to utilize E-commerce marketing for product promotion. It is an easy way to gain attention right away and connect to your targeted audience. On the other hand, visitors on the E-commerce platforms are more likely to convert to buyers as they are actively looking for products and services.
7. Social media marketing
There are a handful of social media platforms with tons of online traffic. Social media is one of the easiest and fastest ways to gain brand awareness. The research data by Global Weblndex shows that "57.6% of the world's population uses social media, and the average daily usage is 2 hours 27 minutes (October 2021)". 
Several factors essentialize uniform growth on social media platforms. The most important of them is the theme and context of your content. The context of your content is the need of the audience for a specific social media platform. A video is more likely to go viral on Instagram, and a joke is more likely to go viral on Twitter. 
A lot of businesses in 2021 were using push notifications to show relevant information to their visitors. Push notifications are supposed to further advance in the year 2022.
Businesses will utilize AI to track user activities and read patterns to come up with more relevant and persuasive push notifications. It has the potential to create a mark in users' minds that motivates them to take action. 
9. Micro-blogging promotion
The web audience is always on the look for interesting textual content. Microblogging is the creation and promotion of small format blogs below 300 words. 
The user's attention span has decreased over time. You should be able to grab it as soon as possible. 
Long-form content is good for a target audience, but when it comes to increasing engagement on digital platforms micro-blogging has got the edge. It will flourish in 2022 and do wonders for a marketing strategy. 
The function of chatbots is to automate the process of conversation with customers. It is not relatively a new trend, businesses have already been using AI chatbots to answer basic customer queries. 
In 2022, businesses are supposed to improvise Artificial intelligence and machine learning to advance their chatbots. You can expect chatbots to answer more detailed queries and parallelly improve user experience.
11. Content personalization
Content personalization takes the process of targeting the audience to the next level. It is all about understanding the requirements of specific visitors and showing the information accordingly. 
Having a grasp over users' interests, you can build personalized content and create user-specific ads. It will help you strengthen your marketing campaign and achieve your marketing goals.
12. Marketing through video and visual advertising
Psychologically our mind is attracted by movements. The visual content is the content of the new age. However, businesses grasped this fact long ago and started utilizing visual advertising as a part of their marketing efforts. However, it is relatively a new digital marketing trend.
Visual marketing is best for gaining customer engagement, but it is highly competitive. There are a lot of brands that clash for user attention on video marketing platforms. You need to stand out as a video marketing to get your videos to rank higher and generate views. 
13. Audio ads and podcasts
Podcasts are the emerging platforms for generating brand awareness and increasing customer engagement. People love to listen to informational podcasts. If you want to beef up your marketing strategy in 2022, you should utilize podcasts to gain an edge over your competitor. 
The increasing interest of the audience in podcasts has made it another potential platform for paid promotion. Businesses are now investing in audio ads and will continue to do the same in 2022. It is another way to connect with your audience through personalized audio ads.
Augmented reality refers to adding digital elements around real-world users. In other words, augmented reality enables a user to access virtual information through a physical component. There are two types of Augmented reality currently in use, marker-based augmented reality and markerless augmented reality.
AR enables marketers to convert a simple static image into a 3D animation. It provides a professional ambiance to your website and increases user engagement. If you want to stand out in 2022, you should use augmented reality to excel in your marketing campaign.
15. Internet of things (IoT)
The internet of things refers to the interconnection between the internet-enabled devices that allows them to send or receive data. The best example of this is the concept of smart homes. It is supposed to be one of the most demanded digital marketing trends in 2022.
It is the internet of things that enables the connection between household appliances. The internet of things goes way beyond mobile phones and tablets. It allows marketers to gather data from devices, such as smartwatches, smart TVs, and vehicles. It enables marketers to improve audience interaction, track customer needs and offer consumers the best solution.
16. Progressive web applications
Progressive web applications are web applications that use service workers, manifest along with web enhancement to provide an app-like ambiance to websites.
Progressive web applications are highly effective as they do not require device resources such as RAM. They are most effective when it comes to improving user experience. Better user experience leads to better engagement and hence increased conversions.
17. Mobile friendly development
There are far more mobile phone users than PC or laptops on the internet. It has become indispensable for your website to have a mobile-friendly interface. 
Over time, search engines have evolved into the mainstream platforms for online traffic. They now show different results on mobile phones and Pcs. That means it won't rank your website for mobile phone users if it is not mobile-friendly. In 2022, it is essential to invest in responsive themes and website design to make your website look mobile-friendly.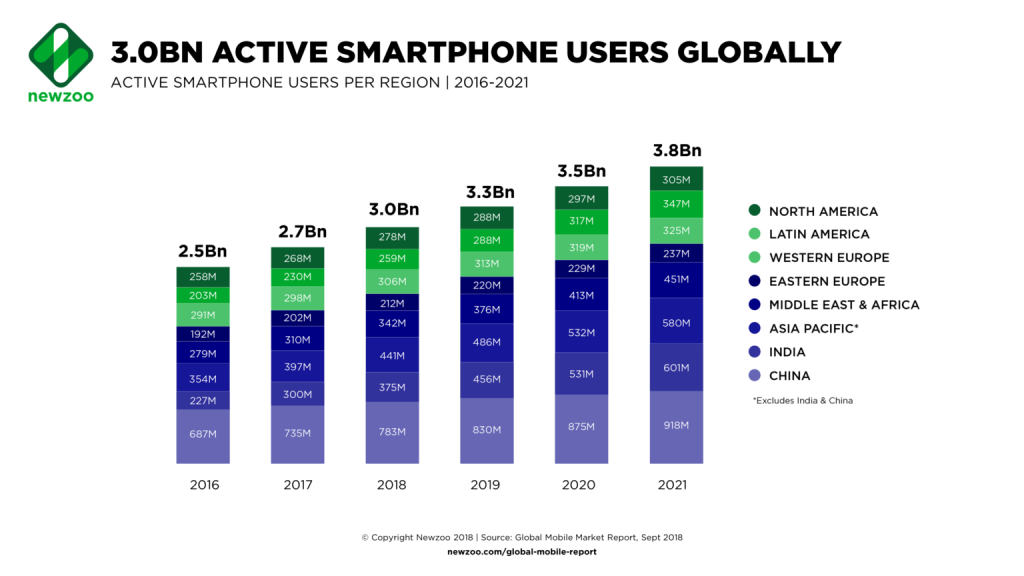 18. Single-page applications
Single-page applications are essential for increasing the loading speed of your website. 
The problem with traditional page load is that every time a user navigates through a website another page is loaded. It increases website loading time and bounce rate. 
Single-page applications increase page load speed by only sending the information a user needs. It enhances user experience and increases user engagement. The more time a user spends on your website, the more likely he is to convert into a buyer.
19. Programmatic advertising
Automation is not just a buzzword but an effective digital marketing trend. It is the process of buying, selling, and utilizing the online advertising space. It has eliminated the need for the long and cumbersome process of the usual search for advertising platforms and websites. Programmatic advertising is automated and displays information only to the most interested users. 
It saves your effort and time as it utilizes artificial intelligence and machine learning and compares a lot of promotional platforms. It analyzes stats and data and finds the best platform for brand promotion.
Search engine and social media platforms now provide an option for smart display campaigns, through which marketers can completely automate the process of advertising. These are AI-based campaigns that find the best websites and pages to show your display ads.
20. Conversational marketing
Conversational marketing is a way of speaking directly with customers in real-time through live chat, messaging apps, or conversational AI. It is a casual, friendly, and effective way to connect with prospects and customers. 
Besides its numerous benefits, it is most beneficial for lead generation. Suppose someone visits your website, and a chatbot pops up to ask "what brought you to our website?" The visitor is amazed by the conversational tone of the chatbot and selects one of the available options. Even if the visitors bounce off, you will have successfully captured a new lead. 
As the potential customers reach the sales funnel, you can again engage them with the conversational tone and increase the chances of sale generation. 
21. Omnichannel marketing
Omnichannel marketing refers to interacting with customers on multiple channels to offer a unified experience. It is about theming the content around several marketing channels to make your visitors recognize your brand. The main goal of omnichannel marketing is to provide a seamless and consistent user experience. 
Focus on omnichannel marketing will help you increase user engagement and create brand awareness. The increasing competition in the digital world has created a sense of urgency to do something different and stand out. Omnichannel marketing will help you gain the edge over your competitor in 2022 and excel at your marketing campaign.
22. Dark mode standardisation
The popularity of dark mode has increased dramatically in 2021. Most mobile phones and tablets provide the option to switch to dark mode for their users. It is a color scheme that uses a dark background in the design. 
Following this trend, businesses now include an option to switch to dark mode in their website design. It might seem a simple thing to do, but it is an effective tool to increase customer engagement on your website. 
23. Blockchain technology
Blockchain technology is a relatively new technology. However, many industries such as telecommunication, finance, and banking are already using it. It is further going to impact the digital marketing industry in 2022. 
It allows marketers and customers to gain maximum transparency during transactions. It does not require any third-party verification. It gets users to trust in your services and build lifelong relations. 
Think of blockchain as a series of digital records interlinked with each other and do not require third-party verification. It is the reason behind the success of bitcoin and can do wonders for marketers as well. The most remarkable contribution of blockchain for digital marketing is providing advanced transparency and data protection. 
24. Collaboration with influencers
Influencers are not losing ground, but ways of businesses working with them are changing. In the early stage of influencer marketing, businesses were thriving to collaborate with influencers. But now, it is essential to build cooperation and long-term pacts with influencers. 
Consumers trust influencers more than advertisements. It is the best way to introduce your products to your customers through a trustworthy person. Finding the right influencer can do wonders for your business. In the coming year, brands are supposed to work with influencer marketing companies that are trusted by their focused audience. 
25. Understand the importance of customer experience
Digital marketing trends evolve with time, but one thing that will always be an essential element is the customer experience. Your focus should be to provide the best experience for your consumers. 
No matter what industry, there will always be a handful of brands and companies thriving for the attention of a particular audience. People now have a choice to choose a service provider that best suits their needs. Good user experience makes the audience stay with you and choose you among a handful of other service providers. 
Over time the competition for customer attention on the internet has increased drastically. It has created a aura to do something new and stand out. 
Getting comfortable with your marketing strategy is the biggest mistake you can make. Digital marketing trends are ever-evolving, you should always be look for them to strengthen your marketing campaign. Incorporating these trends into your strategy is the only way to stand out and grab customer attention.