Being an e-commerce business owner, at some point in your life, you must have wondered, "What if I run a multi-product online store? Of course, the more products I display, the higher the chance I will have a successful product!" 
While coming up with new ideas for the product, this seems logical. Staying fixated on just one product may slow your progress. Take this into account…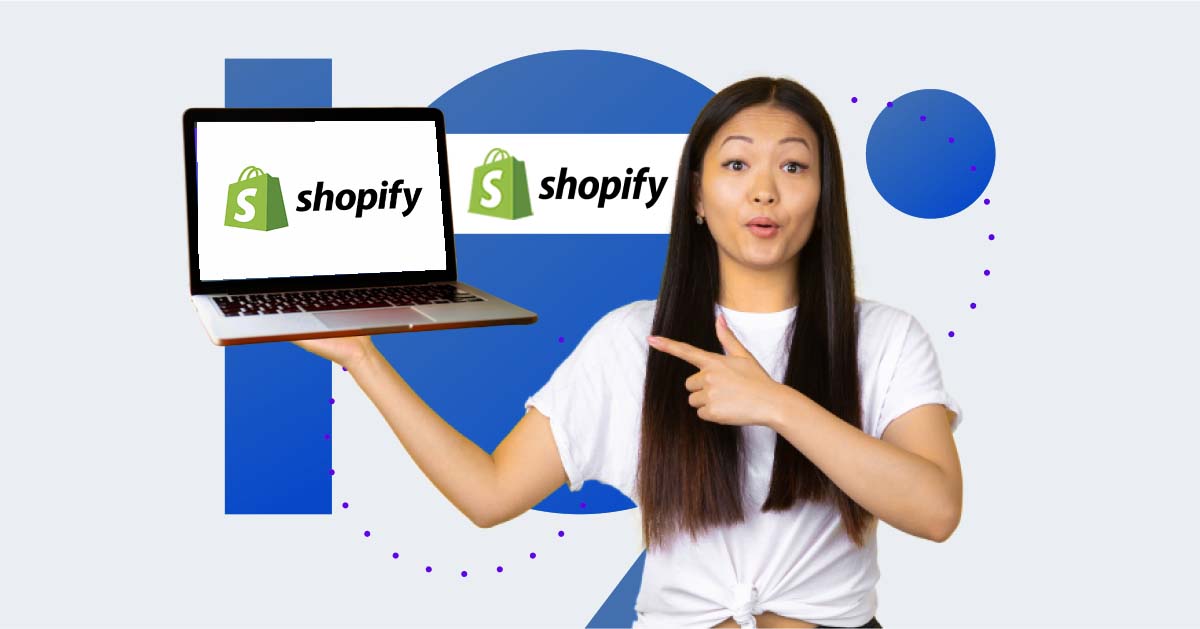 Concentrating on just one product rather than searching for numerous high-demand products can save time and effort. Moreover, One Product Shopify Stores are underrated, and you will tap into new niche audiences to sell online. These One Product Shopify Stores are the best examples to demonstrate how you can succeed by selling one type of product in your Shopify store.
Key Insights:
One Product Shopify Store meaning
The Benefits of Having One Product Shopify Store
Best examples of One Product Shopify Store
Essential factors to consider while building a One-Product Shopify Store

How To Build One Product Shopify Store
Before getting into details, we must ensure we are on the same page and understand the meaning of One Product Shopify Store.
What Is One Product Shopify Store?
An online store with only one product or service is called One Product Shopify Store, and it is a  B2C e-commerce store that only sells one product. As the name suggests, this store creates and supports one entity rather than hundreds of possibilities. A single product can be available in various colors and sizes; therefore, you will get all its benefits.
Several one-product stores provide extras or variations, and the Average Order Value (AOV) of their eCommerce store rises due to this. We have shared examples of how retailers can make the most of One Product Shopify Store:
General Products:

For example, a wide range of customers may be satisfied by available items like backpacks or water-resistant phone covers.

Digital Offerings:

includes services like meditation and yoga classes, educational resources like ebooks and courses, and software tools like art & music.

Niche Products:

Effective branding by focusing on specific clientele. Some great examples are pet accessories, vegan food, and gaming chairs.
You can also offer product variations, such as other sizes, colors, or materials, to give customers more choices.
Benefits of Having One Product Shopify Store
As an owner of an e-commerce business, you understand the need to strike a balance between various competing demands. You must monitor our eCommerce business, adjust your products, sell them left and right, and redefine your website and marketing techniques.
Yes, it takes a lot of work to run an online store. But, if you only sell one trademarked item through Shopify, you can enjoy… 
Effective Marketing Strategy
If you focus on your niche, a Shopify store simplifies defining your brand's identity and value proposition. Your internet marketing will be easier to understand.
Google and Facebook's algorithms discover data on users who purchase from your one-product Shopify Stores. With such essential data, you may target your audience. One-product retailers also profit from…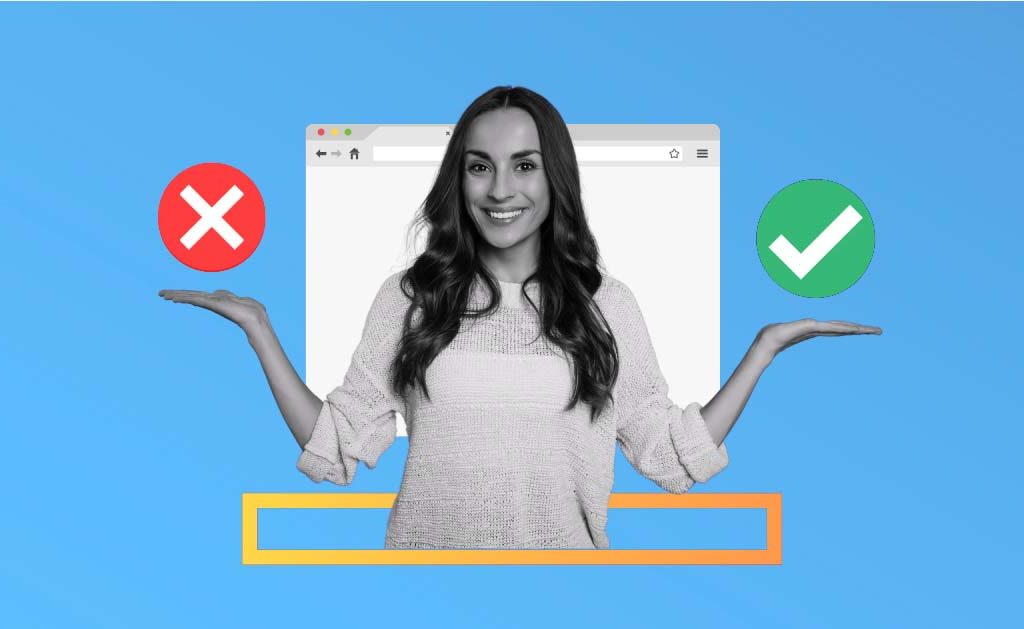 numerous choices might cause a person to feel unsure, stressed, and dissatisfied. Ultimately, your customers will end up buying anything at all. However, you can lessen your customers' complexity with just one product store. 
They will have less friction in making a purchase. Furthermore, managing a Shopify business with just one product will be easier.
A store with just one item needs only a small staff. You won't require a large team to handle shipping, lead marketing strategies, manufacturing, etc. One-product stores only need a little maintenance.
You will only need to consider expanding your staff once your product offering expands. Customers claim that many businesses need to offer better customer service. However, you will be fine if you have a single-product store.
If your store just sells one item, customers will need help finding it elsewhere, which builds a sense of scarcity in the market. As a result, it raises the demand for your store with just one product. We are not over yet, and you can still reap benefits…
Offer The Best Customer Service
Can you imagine providing flawless service to every single one of your clients? You don't have to rely solely on your imagination when running an online store with just one item. If you focus on one product, the customer experience may be improved. 
If you are familiar with every aspect of your products, it will be much easier to answer their queries. The one-product Shopify sites will demonstrate this, and we will show you below.
6 Top Examples of One Product Shopify Store of 2023
It has become a trend to have a One-Product Shopify Store in 2023. Numerous people have cited the "saturation point" that top multi-product stores have reached, in which customers find it difficult to choose between so many options and cannot decide which products to purchase. After extensive study, marketers determine consumers' needs and develop a company plan.
There are numerous stories about successful One Product Shopify Stores. So, let's look deeper and enjoy these five beautiful and engaging examples of One Product Shopify Store of 2023:
The company sells portable white noise machines that emit fan noise to help you fall asleep comfortably. The page opens with a hero, a background of sound-asleep individuals, and the advice to "make your bedroom a haven for sleep." The part on social proof, the product description, the product image, and the benefits are all included after that. The entertaining Royal Snoozfest promotional video is the most significant part.
Take note of the many forms of social proof highlighted on the page to draw visitors.
In this example, Palmpress shop sells a single press coffee press for each person to prepare their coffee quickly and per their preference. A strong protagonist introduces the story and states the product right away, and a CTA follows it with a section on social evidence that converts it into power.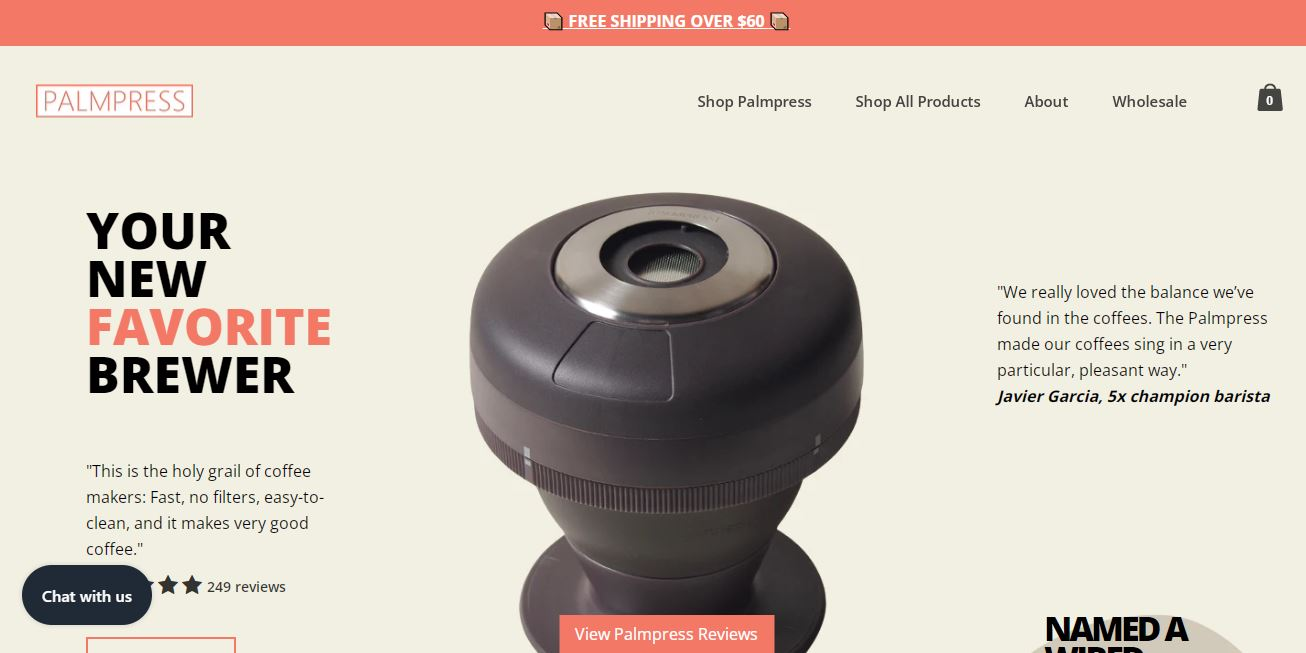 Speaking of successful conversion strategies, the page also describes the product's qualities using badges. Small symbols with clear lettering are always more appealing, catchier, and seem more professional.
This brand has created something very unique and specific. Dryrobe sells top-notch windproof and waterproof robes for sports fans, particularly water sports athletes. Because of the beautiful animated hero image, including fantastic scenes of people wearing Dryrobe items while surfing and swimming, visitors will like their online presence.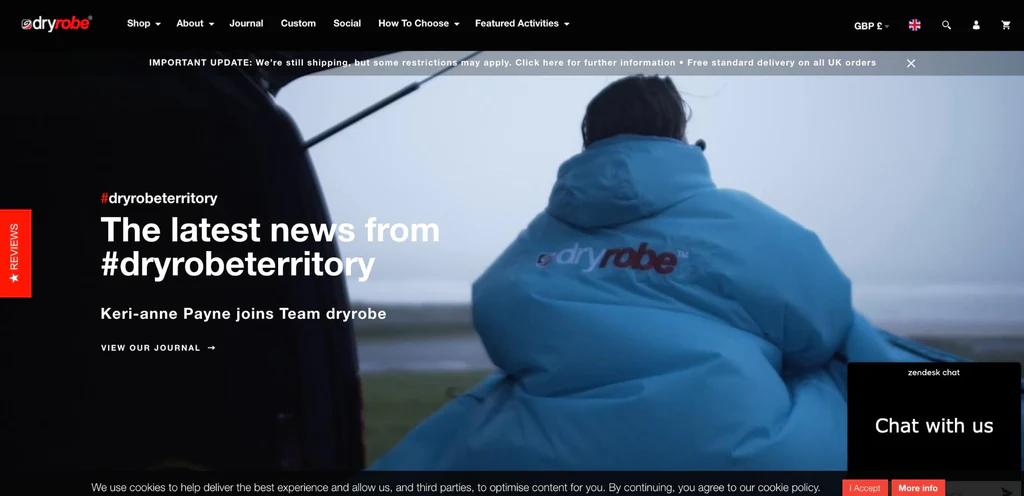 Neos SmartCam store focuses on selling SmartCam designed for young families and homeowners. Their shop has a polished, professional appearance and a unifying tone. Note how their photography reflects what matters most to their target clients.
Neos was created with homeowners as its primary target market. They bridge the gap between traditional insurance and home technology to provide customers with what they want—the comforting knowledge that everything in their home is secure.
This particular store Shopify has a terrific site design example and specializes in hot truffle sauces. The scrolling display must be similarly attractive and engaging because most visitors will wait to click the CTA, no matter how appealing the hero is.
Truff Hot Sauce can grab a viewer's attention with eye-catchy images and terrific website design. With a large graphic at the top of its home page, Truff Hot Sauce knows how to capture visitors' attention. The line of hot sauces containing truffle oil is displayed with the enticing tagline "The pinnacle of heat experience" and the crystal-clear CTA button "Taste Truff."
Essential Factors To Consider While Building One Product Shopify Store
As the market becomes more saturated, customers face the paradox of choice. The overload of options could leave customers feeling confused and overwhelmed. Due to this change in customer sentiments, many brands are forced to reconsider their business strategies. 
Many upstarts focus their line on a single "hero" product rather than adopting a scattershot strategy and offering a wide variety of products. A one-product method enables brands to be niche and laser-focused, focusing on their target market's unique demands and desires.
In this part of the blog, we at SEO Discovery have curated one of the essential factors you must consider while building One Product Shopify Store. Once the decision regarding the product has been made, entrepreneurs can make all the necessary arrangements required for the material acquisition and product manufacturing. So let's continue reading:
You will only be selling one item. You must pick a top-notch product to sell. Look for a product that is challenging to find, difficult to estimate the price, and intriguing to help you.
Your product's goal should also be evident; customers must understand its benefits immediately.
Impressive Product Description
You must always answer your clients' inquiries about "what's in it for me?"
Your product description should speak to customers' problems. Emphasize the advantages of your product's qualities. Use figures and facts rather than lofty terms like "market-leading" or "top one." Here are some samples of product descriptions.
63% of the customers are most likely to purchase from an online retailer that offers reviews and ratings to the customers.
If you have opted to use one rather than create one from scratch, now is the moment to choose a theme that will serve your needs. At this point, important decisions regarding content should be made. 
Entrepreneurs giving voice to the website is an essential component of the strategy. Choose the areas that will be on your website. The "Hero Banner" material, any photographs, videos, or animated gifs you plan to use to convey the information, and a blog section with educational articles about your business, product, and industry are all included in the central area.
You can select the best theme from the admin panel to upload to your store. When using pieces from external sources, you may easily upload them to Shopify after downloading them to your computer.
Top Quality Products and Videos
How can you demonstrate to potential customers the competence and professionalism of your brand? By utilizing stunning visuals!
Make sure that your website is mobile-friendly. Spend money on product photography, and make movies showcasing your goods in typical settings.
How To Build One Product Shopify Store
Multiple-product stores require multiple pages, and one-product pages are typically sufficient because a one-product Shopify business solely focuses on that item. Your store will require less time and effort to create, customize, and optimize the fewer pages it has. It's true!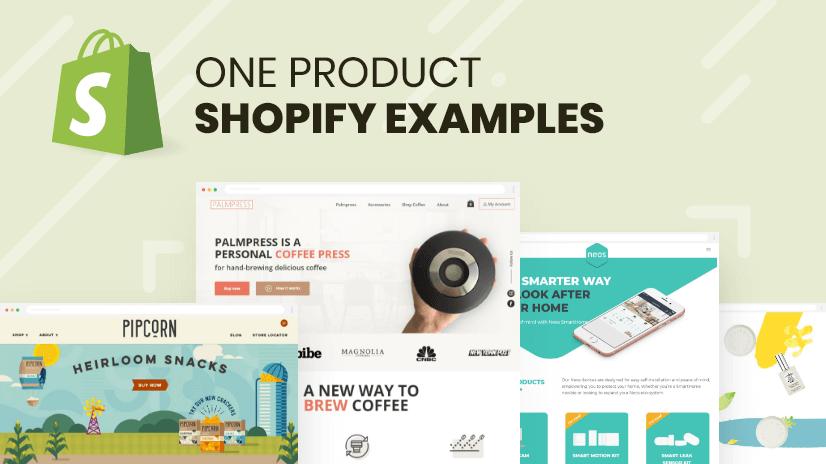 Simply decide what you want to offer, use a drag-and-drop page builder to create store pages swiftly, and then begin marketing. Let's say you have found a product that sells well. So to make a One Product Shopify Store, red the steps:
Step #1: Register With Shopify
Visit the Shopify homepage, and click the top right corner, "Start Free Trial." Follow the directions to create a new account
Step #2: Add Your Product
After completing the account signup process, visit the Shopify homepage, i.e., https://storename.myshopify.com/admin. You may list your products here:
Select "Add Product" from the menu if you make the product yourself. Then you can enter your product's title, image, description, cost and shipping information charges, variants, and other details.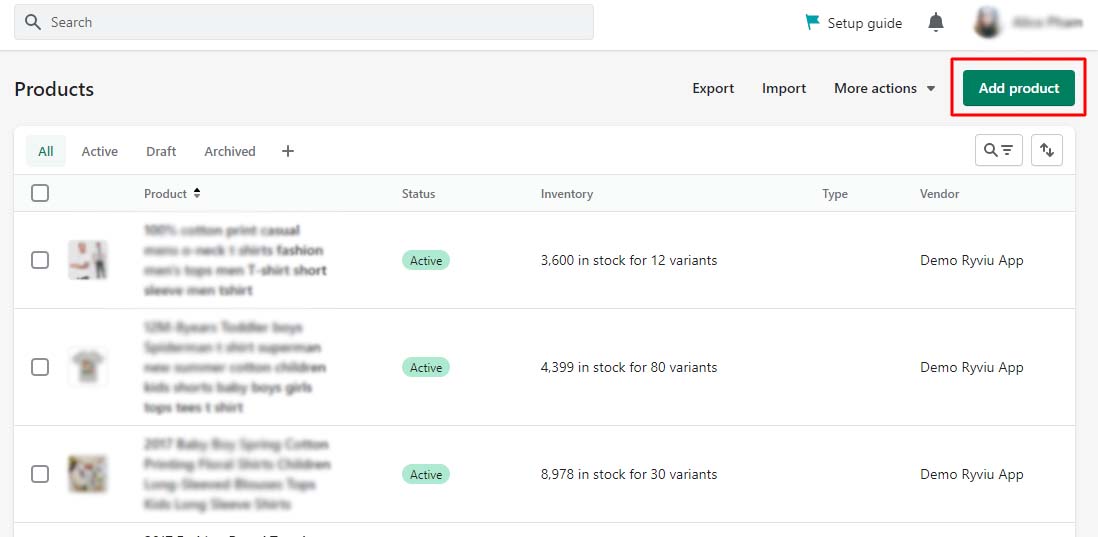 If you're an intermediary and use various sourcing and fulfillment tools, you can import products straight from these tools, and the product details will be placed in your store immediately.
Check out this article for detailed information on adding your products.
Step #3: Pick a Theme
The Shopify Theme Store offers a wide selection of attractive themes. Before installing the theme, ensure it has all the necessary components and areas.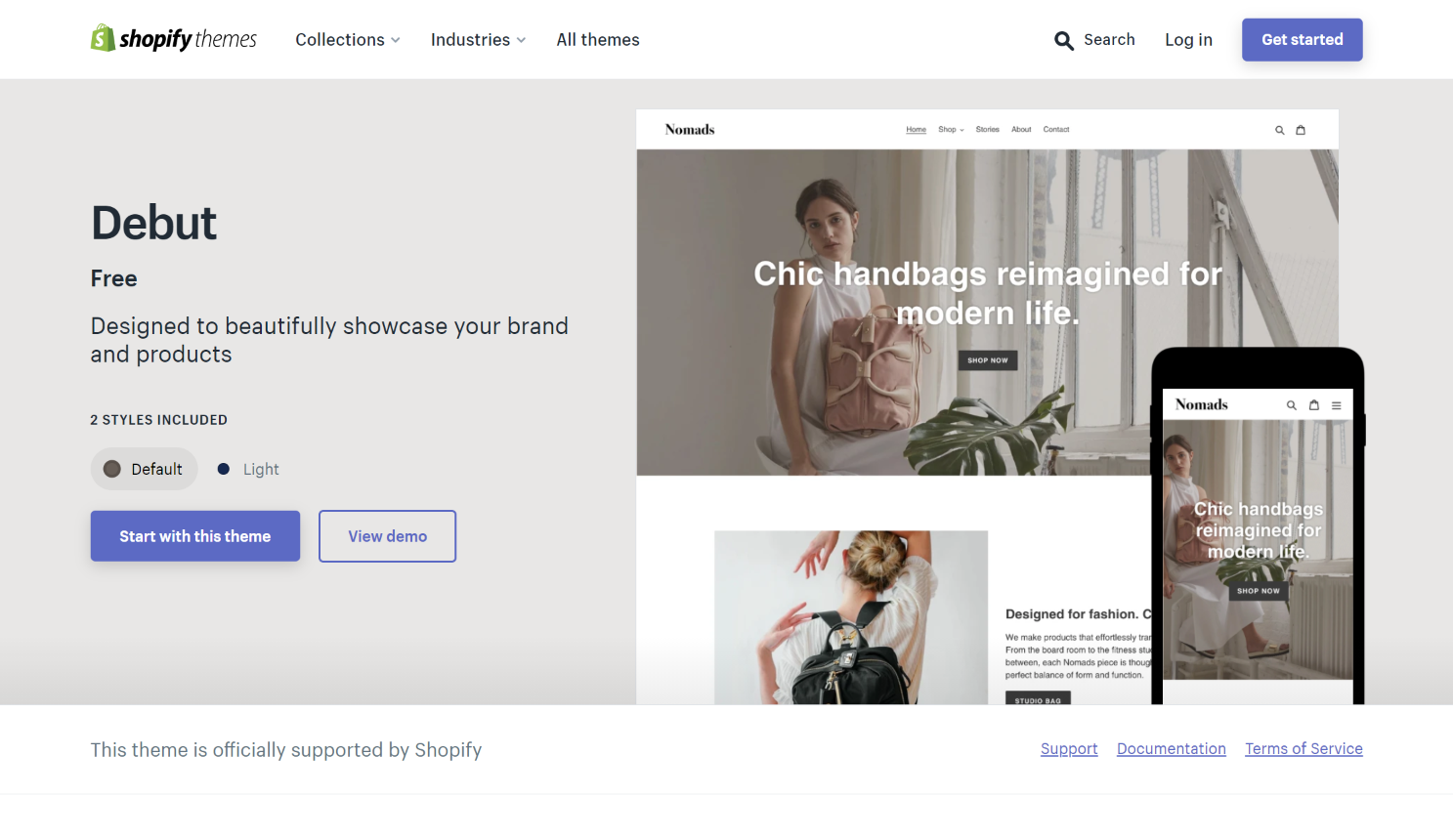 For one-product stores, use themes like Debut, which have a straightforward layout and plenty of space to display your product pictures and videos. It is a fantastic free theme with enough features to present your product in the best possible way. Ideal for a single-product store.
Step #4: Create Unique Pages for your Shopify Store
Once a theme has been installed, you can edit your pages using the dashboard theme editor.
The home page is the most important page on your website. In this area, you should give visitors information about your products. Highlight the pictures and videos of your most stunning products here. 
Product Homepage:

As most of the product facts are already given on the homepage, you can emphasize key features and provide more detailed information, such as variations, delivery alternatives, warranty policy, etc., on your product page. To boost sales, you can highlight product bundles or an updated product version in the product description area.
Cart Page:

Websites with just one product simply require a simple cart page that displays orders, allows customers to adjust quantities, redirects them to the product page, etc. Additionally, keep in mind to include a strong "Checkout" CTA button because getting customers to the checkout page is the primary goal of this page.
Checkout Page:

Your clients submit their payment and shipping details on the checkout page. So keep it as simple as you can and avoid diverting the client. For this page, Shopify already offers templates; all you need to do is add your logo and alter the fonts or colors to fit your brand.
Step #5: Finish The Default Settings
Before launching your One Product Shopify Store, you must finish a few default settings:
Purchase and add Customized Domain

Choose a delivery method

Complete setting up your taxes.

Incorporate payment gateway

Go back to the Shopify dashboard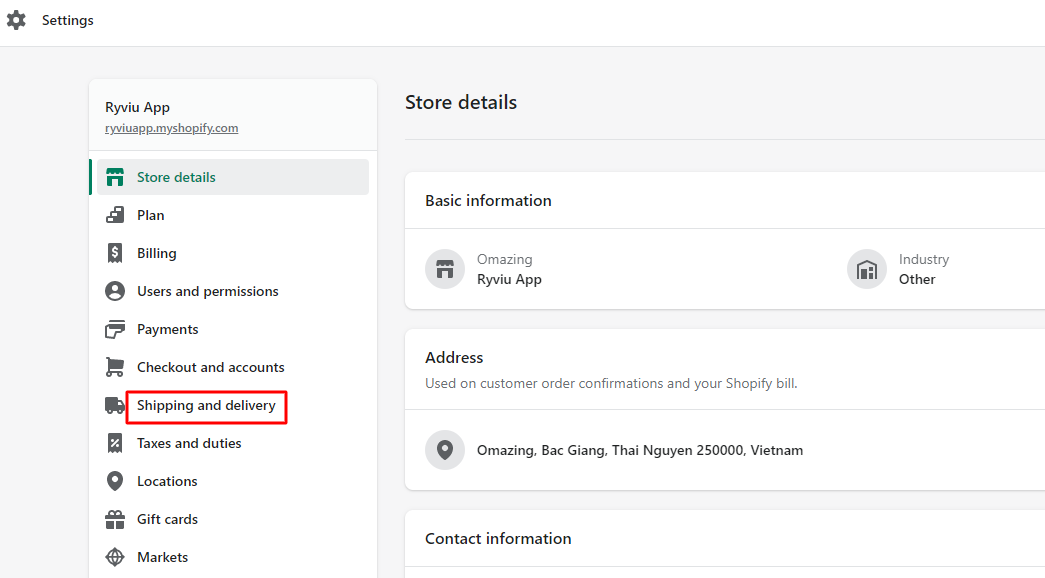 To finish these actions, go to https://storename.myshopify.com/admin and click Settings.
Step #6: Launch Your Store
Before opening your store to the public, ask some friends or relatives to test the website to find any bugs. Then declare that a single-product store is opening to the entire world.
Final Words
One Product Shopify Stores are as successful as any walk-in general store, and it fills a specific niche with a more captive audience. If done correctly, the layout of your shop itself may force potential customers to choose you.
That is all for today on One Product Shopify Stores. Although a lot goes into building one, at this point, you have all the necessary tools to launch your own Shopify store with just one product. 
Now is the best time to build your own. So stop procrastinating and begin making your dream come true. Don't forget t visit our SEO Discovery Blog page when fully geared up to build and customize your Shopify Store that is equally beautiful and highly converting!