Stories are as old as the human himself. It dates back to the age of cavemen when they used to draw paintings and inscriptions to convey their messages. With time it went through an evolution, and various streams of storytelling came into existence. 
The oral culture evolved to verbal, and language came into existence. Now, men can use their voice and a written form of language to convey their messages to the masses. It gave rise to new forms of storytelling, including newspapers, books, and later audio and video recordings.
One of the primary forms of storytelling is brand storytelling. Today, businesses use brand storytelling to convey their brand message and connect to their target audience. Creative storytelling is an effective tool for building brand image and increasing brand recognition. 
The web has diminished the gap between businesses and consumers. It gave rise to popular public platforms such as the search engine and social media platforms. Improvising the web is the current standard for brand storytelling. 
Here are some creative ways businesses can convey their brand message to their target audience. 
Text is one of the most popular mods of storytelling. It frames up a whole field of marketing known as content marketing. It is the practice of improvising text for higher search rankings. However, as people started competing for higher SERP rankings, the internet was flooded with content. People begin to produce longer forms of textual content to outrank their competitors. 
It initiated an urgent necessity for high-quality content. Smaller and more precise text phrases require minimum engagement on the user's behalf. It must convey the message eloquently. It is an effective tool to deliver your brand message to your target audience and build lifelong relations. 
The decreased attention span of consumers gave rise to a new stream of content marketing known as Copywriting. It is a minimalist approach to textual storytelling. In this, brands showcase the features of the products or services through text to their target audience. It is among the popular tactics used by eCommerce businesses. 
Social Cubicle is one of those websites that has mastered the art of textual storytelling. Here is a portion of its about us page, where the author conveys the story on what was the motivation behind the initiation, and how it came into existence? They also stand out among their competitors by horizontalizing their website elements.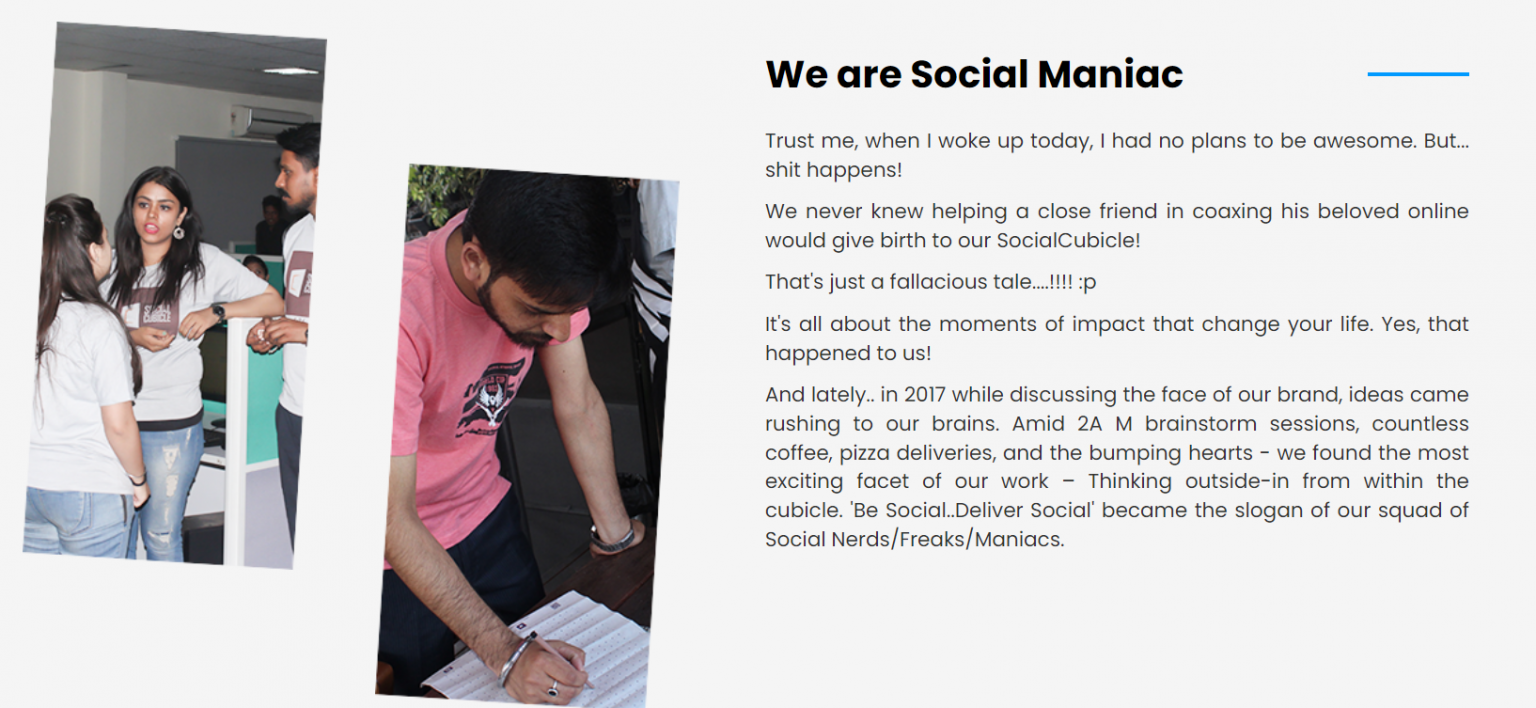 Brand voice:
No matter the platform, brand voice is among the essentials for quality storytelling. Think of it as the feeling with which an author narrates to his audience. Businesses utilize hours understanding their target audience preference and adjusting their brand voice accordingly. 
Data-driven brand storytelling:-
The data-driven approach adds elegance to textual storytelling. It leverages numbers, statistics, and analytics to gain consumer attention and increase loyalty. It enables them to showcase results to their brand audience. It is a data-driven approach to consumer satisfaction. 
Showing results is one of the best ways to advertise products or services. Consumers do not want to know product features. They need to know how a product can influence their day-to-day life. They are interested in what problem it can solve for them. Data is the proof of a product transforming lives and solving problems.
The data-driven approach frames a positive image of a business in the consumer's mind. It tells them how much an organization values its consumers. Showing the personal side tells consumers that an organization takes pride in solving problems and not in generating sales. 
Look at the landing page of BlueHost, and how they used big bold numbers to drive consumers' focus to the most essential information, the price of their services. They also lure consumers with others to specify the constituent elements and the quality of their services, including the number of templates, warranty period, and 24/7 customer support. 
Scrolling down the web page you can also see the price range of various services they provide and their respective data-driven perks.

As the saying goes, a picture says a thousand words. Visual storytelling emerged as an alternative to decreased consumer attention span on the internet. An image is far more engaging than textual content. Human brains can process them 60000 times faster than text. You may write a lot of text to explain the functioning of your product or post a couple of images of real-life prospects using it. 
There are different theories to how a viewer may interpret an image. However, this is certain that it will positively influence them. Marketing through visual content can bring variety and dynamism to your textual content. It makes an article more engaging and increases its readability. One of the most common examples of the combination of visuals and text for creative storytelling is the landing page of Make My Trip.
The way they utilize icons to facilitate visual explanation of the services they provide. They also added text to clarify doubts a visitor might have. On top of that, they utilized images to specify various tour services they provide. It is a complete setup for a tour and travel website.
MMT also improvised basic colors like blue and white to calm visitors' minds. In this way, the consumer retention rate is automatically increased and they are more likely to convert to visitors.
Infographic storytelling:-
An infographic comprises text and illustrations. It can convey relevant information through visuals. It can enhance the essence of your content by storifying essential intent. It is a highly effective tactic for increasing consumer engagement and achieving your respective marketing goals. To help readers navigate the hierarchy, this Upwork infographic employs clear section titles and a modular style.
News outlets as storytelling:-
A news outlet is the best example of the combination of textual and visual storytelling. It is one of the most engaging pieces of content. 
Textual content governs the graphics and delivers a story. Brands utilize news websites and website blog sections to regularly update their target audience with their industry news. 
It is short and precise and does not contain direct promotion. The primary purpose of news outlets is to deliver information. Consumers feel valued and engage with this kind of content.
As storytelling evolved, people started using animation for creative storytelling. It is one of the best ways of conveying a message and engaging the target audience. A dedicated animation storytelling strategy helps you stand out among your competitors. You deliver the uniqueness and a great style implemented in an exciting narrative experience. It simplifies the information and helps consumers to relate to it.
Designers understand the target audience's requirements and follow a specific style to ensure proper message delivery. It also maintains a sense of originality and increases brand recognition. In other words, animation has the power to create a specific brand image in the consumer's mind. 
The combination of animation and textual content for storytelling is one of the best ways to convey a brand's message. Check the best examples that leveraged animation storytelling to the fullest.
Conveying a problem and plotting its solution: 
There is a limit to what one can represent through illustration or text. However, when it comes to animation, there is no end to its creative usage. One can bring to reality everything that he can imagine. Graphics bring life to products and services and enable the personification of non-living things. 
Through animation, digital marketers can easily convey a problem and visualize how their product will solve it. Showing the usage of a product is among the essentials of the sales process.
Storytelling through videos:-
Videos are among the preferred content types on the internet. It receives the most engagement on the internet.
Anyone can produce textual or illustrative content. It is comparatively easier to create textual content than videos. However, there are a lot of technicalities that go into the creation of an informative video.
Video marketing states suggest that website visitors stay 100% longer on a web page with videos. They are also 80% more likely to buy a product after watching a video. Video ensures the ease of consumer interaction. The human mind is evolved to follow movement. Videos add dynamism and variety to the website content. 
However, there are several mistakes that marketers make while leveraging video marketing for their product advertisements. Let us discuss the basics of video marketing:
Plot:-

Think of it as the script of your video. It is the story you want to convey. For example, the purpose of a video is product promotion. It must convey a problem and answer how a product will solve it.
Purpose:-

What is the purpose of the video? Is it for increasing brand recognition, sales, or promotional purposes? Take time to define the purpose of the video before setting particulars for the video marketing process. 
Characters:-

Who are the main characters of the video and how do they relate to a story? How are they going to make sense to your target audience?
Place:-

What is the location for the video, and how does it help fulfill the purpose of the video? 
Audience:-

Understanding target audience preferences is vital for quality storytelling. All major decisions are taken based on the target audience's preferences. 
Distribution method:- How are you going to share your videos with the others? What are your primary distribution channels? 


These elements create a framework for an effective video storytelling platform. It is the easiest way to get everything right and yield an informative video. We at SEO Discovery leverage effective video SEO services to create high-quality story-driven videos. This video aimed to educate people regarding a phenomenon every writer goes through at some time in their career, writer's block.
Auditory storytelling is one of the oldest forms of storytelling. It boomed as a result of the advent of podcasts in 2005. People love to listen to podcasts. These are short, informative, and entertaining audio stories. Unlike a video, audio does not require attention and focus. It is like listening to songs. You can walk every plug and get hold of a lot of essential information. 
The podcasts are highly slick and eloquent. Itunes identified this trend and added podcasts to its digital music offerings. Now everyone with an iPod had a digital library of podcasts to download and listen to. It created a whole new market for content creators to connect with their target audience. It was a brilliant opportunity for businesses to educate their target audience about their business process and connect to them personally.  
One of the most popular and trendy examples of audio storytelling is (TRS) The Runveer Show. In this show, Ranveer hosts the intellectuals of various business industries such as technology, history, and wildlife. It has worked wonders in educating people on these topics and bringing attention to his digital marketing brand Monk Entertainment.
Storytelling through social media:-
Social media is among the most popular digital marketing platforms. It has the potential to instantly boost your brand awareness and help you achieve your business goals. It facilitates an instant connection between consumers and businesses. 
Social media is an open-source network. It provides similar growth opportunities to a business and an individual. It empowers users to create their own stories and share them. They can follow others and collaborate with other industry experts. 
However, there are several things you must keep in mind before choosing a social media platform for online storytelling. Each social media platform is different and best for specific business types. One must clearly define their business objectives before determining the right social media platform. 
For example, Facebook and Instagram promote leisure. These platforms are best for increasing  sales for certain businesses. It includes niches such as fashion, travel, and hotel businesses. It is the easiest way to tell their brand story and convey their business services to their target audience. 
Redbull India's social media page is one of the best examples of social media storytelling. They have themed their social media page around activities that require energy. It is because Red Bull is an energy drink. It is one of the most popular marketing strategies as well. 
Personalized experience:
Social media entails a personalized touch. It enables brands to showcase their internal operational activities to establish a personalized connection with their target audience. Being transparent about the manufacturing process increases consumer trust and catalyzes long-term relationships. 
Benefits of having a storytelling strategy in your marketing strategy:-
Increased consumer engagement:- 
Advertising is one of the most sophisticated ways of marketing your products. With advertisements, people like being tricked into clicking on the banner ads. 3 out of 4 people actively avoid advertising. It is one-way storytelling where brands talk about themselves but nothing about the consumers.
Storytelling enables businesses to personalize consumer interactions. People must feel like connecting with a person instead of a brand. It makes them feel involved. It lets them know how much a brand values its customers. 
Attract the right audience:-
The increasing competition and the rise of corporate culture have damaged more than just audience attention span. People do not trust brands that focus primarily on advertising anymore and do not regard any care and consideration for their target audience. 
A story contains more than your business products and services. It enables brands to articulate their values and their business mission. It allows their target audience to understand the kind of people they are connected to personally. It puts a deep influence on potential business prospects. It helps businesses connect to the people actively searching for the services an organization provides. 
Stand out from the competition:- 
There is enormous competition for the target audience's attention on the internet. Everyone uses cheap marketing tactics to get their consumers to click on links referred to as spam. People miss a human touch in the marketing process. Having a dedicated storytelling strategy humanizes the brand and makes your business stand out from your competition. 
Businesses can convey how they come to be, grow, learn to do good work, and choose what they stand for. It enables their target audience to relate to and connect with their brand on a personal level. Better consumer experience is key to acquiring new customers and standing out among competitors. 
Conclusion:- 
Storytelling is one of the best ways to connect to the target audience and achieve business goals. It enables businesses to showcase their personal side and convey their brand values and their business mission to their target audience. Brand storytelling enables consumers to get to know the human side of an organization.
There are several ways businesses can be creative with their brand storytelling. It includes visual, animated, and video storytelling. Advertising has been there for a long time and makes consumers feel undervalued. Storytelling, on the other hand, is a different approach to customer acquisition. Through this businesses can put life to their brand and provide value to their target audience. Every business in 2022 must utilize brand storytelling as a part of its marketing strategy.